Course Description
The course aims to provide participants with general knowledge in the area of integration and social inclusion of vulnerable persons. An interdisciplinary approach, considering psychological, social, theological, and legislative disciplines, will facilitate the learners to understand the problem of vulnerability and social exclusion in our society from different perspectives and be able to offer basic skills to students who work with vulnerable persons.
Course Objectives
The participants will be able to:
Listen and understand, interpret verbal and non-verbal cues, and develop empathy skills with persons in vulnerable situations
Obtain basic knowledge about vulnerability, inclusion and integration of vulnerable persons in the community
Have access to literature on topics of study to foster further understanding
Foster genuine and selfless interest in persons living in vulnerable situations
Develop a non-judgmental approach to vulnerable situations and persons
Create networking within a pastoral setting
Acquire basic skills in dealing with challenging social problems and situations
Obtain knowledge of professional settings and organisations where vulnerable persons can be referred to.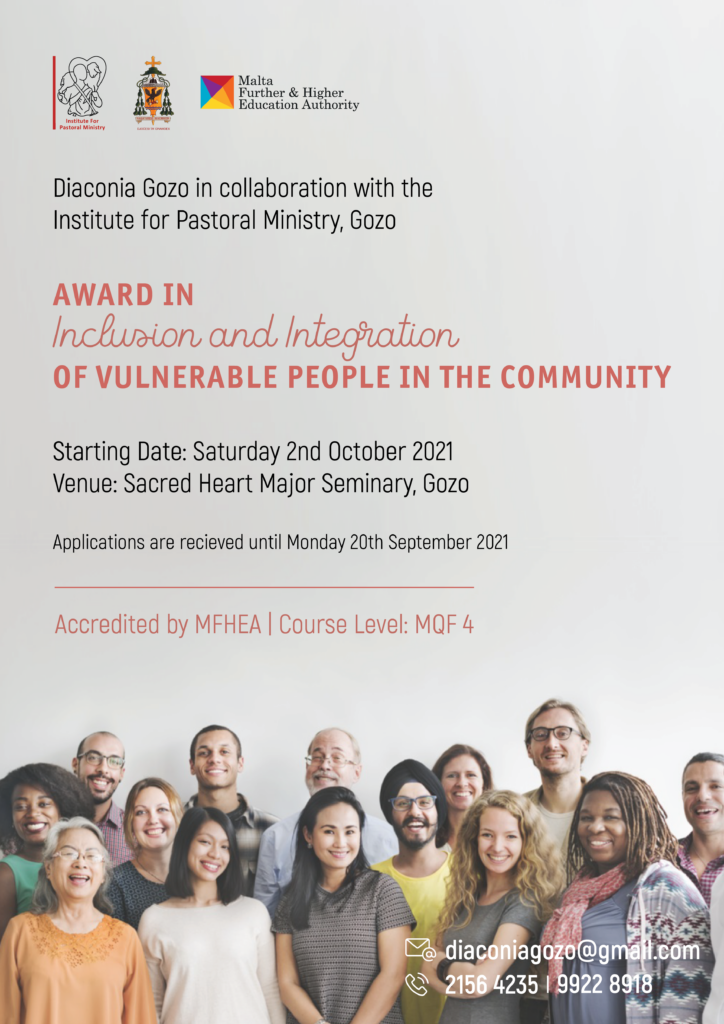 Target Group
The course will be offered to people who are interested in voluntary work with vulnerable people in pastoral settings. Nonetheless health care workers can benefit from this course to offer a holistic attention to service users.
Course Level
MQF Level: 4
Course Credits
ECTS 5
Title of Qualification
Award in Inclusion and Integration of Vulnerable People in the Community
Course Coordinator
Lecturer
Various lecturers
Other Course Material